As a continuation of their marketing materials development, I designed a little brochure for the
Mogalakwena Craft Art Development Foundation
 (MCADF). It is a 8-page brochure presenting the Foundation and illustrated by the colourful palette of their artworks.
MCADF assists in the restoration, development and promotion of traditional craft art skills and supports the economic and social up-liftment of the local Northern Sotho community. Their aim is to establish a sustainable development program, employment opportunities, transfer skills and preserve indigenous culture.
The Foundation specialises in the training of multiple skills - embroidery, bead work, candle making, sewing, knitting, crochet, basket weaving, pottery, basic computer literacy, practical first aid courses, AIDS awareness & care, children's art workshops and basic principles of cultural tourism. It focusses on traditional hand crafts and contemporary design to create unique artworks as well as interior accessories.
Mogalakwena Craft Art Development Foundation - South Africa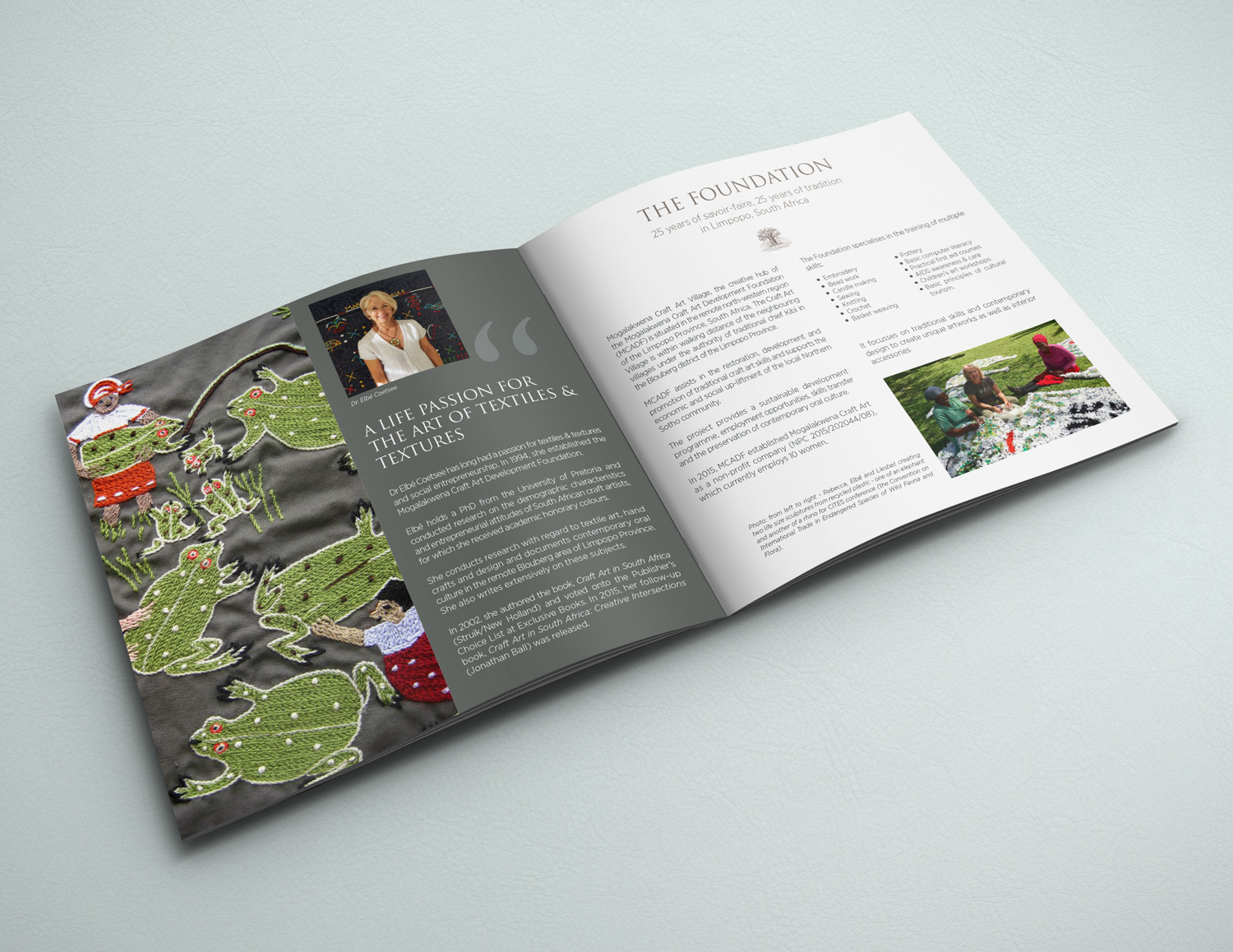 « When I saw the remarkable marketing communication that Eva created for Botanica Natural Products, I commissioned her to design a range of marketing materials for my development foundation (Mogalakwena Craft Art Development Foundation - MCADF). Eva designed and compiled a valuable marketing strategy for MCADF.  Her creative input is exceptional with regard to web design, social media platforms, branding, packaging, printed materials  and all aspects required for marketing in the 21st century. She furthermore positively contributed to various marketing goals at our Studio Shop in Cape Town. Eva is efficient, knowledgeable, and results oriented. Her warmth and positive attitude makes it a pleasure to work with her. »